Are You Being Pressured to Skip Your Meal or Rest Breaks?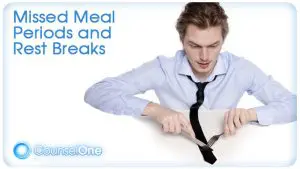 It's not unusual to skip lunch or work through a rest break every once in a while.  People get swamped with work sometimes, and you might just have to make do with a sandwich in one hand and your computer in the other.  But if it's a customary practice at your workplace to miss meal periods and rest breaks, your employer may be violating the employment law for lunch breaks.
Under California law, both salaried and hourly employees alike are entitled to take an unpaid meal break and paid rest breaks throughout the workday.
For the first five hours worked, you have the right to a 30-minute unpaid meal break.  If you work longer than ten hours, you get another 30-minute unpaid meal break.  Your employer is responsible for making sure you take your meal break on time.  During this meal break, you are entitled to leave the premises and engage in any activity you please, free of your employer's control.  If your boss pressures you to skip meal breaks, requires you to stay on premises during meal breaks, or orders you around during your meal break, your employer may be violating the law.  For each individual violation, you are entitled to compensation.
Contact CounselOne attorneys today for a free consultation regarding your case.
If you are an hourly worker, your employer may require you to clock out for your meal break, but might give you tasks to perform while you are off the clock.  In addition to being a violation of law in itself, this might lead to you working over 40 hours a week without being paid overtime.  In this case, you may be entitled to compensation for unpaid overtime wages and missed meal breaks.
Contact CounselOne to schedule a free consultation with our attorneys regarding employee lunch breaks.  We do not charge attorneys' fees before we succeed in recovering compensation for you.
As an employee, you are entitled to a 10-minute paid rest break for every four hours worked.  The employer must let you know that such a break is available, but it is up to you to choose whether to take them.  If your employer denies you a rest break, it is a violation of the law, and you may be entitled to compensation.  If it is happening to you, chances are it is happening to other employees at your company as well.
Contact CounselOne to schedule a free unpaid lunch break consultation with our attorneys.  We specialize in individual as well as class-action employment litigation.  We have recovered millions for our clients who have had their employee rights violated.
Click Here to See CounselOne's Current Investigations